March 14-15, 2015
10 AM to 5 PM
Goucher College
Towson, MD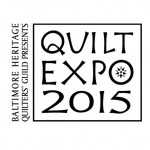 The EXPO showcases quilts made by guild members, ranging in style from traditional to contemporary, as well as art quilts. The EXPO also features quilts and quilted items for sale, a Silent Auction, an expanded Vendors' Mall, and a number of handmade items available for sale.
Admission: $8 at the door. Children under 12 admitted free when accompanied by an adult.
Featured Quilters
Our Featured Quilters have been selected by the Guild to showcase quilts they  have made over the years. They will be giving talks on their works, methods, and inspirations.
Traditional Quilter
Clara Murphy
Contemporary Quilter
Rebecca Ludwig
Redwork
54″ L x 45″ W
©Clara Murphy
Back Door to the Castle
23″ L x 17″ W
©Rebecca Ludwig
Vendors
Want to vend at this show? Contact the Vendor Chairperson for more information.
Registration for BHQG members' quilts
Registration for members' quilts is now closed. It's going to be a fabulous show with more than 300 quilts on display.
To all those exhibiting quilts – remember that ALL quilts must have a sleeve attached securely to the back, sewn not pinned. All quilts must also have a permanent label sewn to the back with the quilt title and owner/maker's name. Need instructions on how to make a sleeve? This page has instructions.
Buy It or Bid
Members donate items to the Buy It or Bid auction. You may place a bid on an item during the duration of the show or if you can't wait, you can purchase it immediately. Some items that have been donated will be displayed on this web page in the near future and can be purchased via PayPal. If you are donating an item, please download this form, fill it out, and attach it to your piece.
Preview some of the pieces that will be available at the Buy It or Bid table.
Bernina 350PE (Patchwork Edition) + Walking Foot Raffle
Tickets are $5 each or 3 for $10. Drawing will be held at Quilt EXPO at 4pm on Sunday, March 15, 2014. Winner need not be present. Bernina dealer: Bear's Paw Fabrics.
Easy-read LCD Screen

Threader

Direct Stitch Selection

Speed Control

Quick Reverse Button

Extension Table

Free Hand System

Presser Foot Lifter

Automatic Buttonhole

Thread Cutter

LCD Sewing Light

6 Snap on Feet

Patchwork Foot

2 Alphabets

Single Stitch Needle- Plate


Read

 more about the features of this machine.
Demos, Docent Tours, and "Make It and Take It"
Demos and Make It and Take It are held in the Demonstration area in the Quilt Exhibit Area.
Saturday
11:00 – 11:30  Demo Fabric Printing with Amy Selmanoff
11:30 – 12:30  Docent Tour
1:00 – 1:30 Make and Take with Jeanne Delozier
1:30 – 2:20  Docent Tour
3:00 – 3:30 Demo Bargello with Jean Mellott
Sunday
11:00 – 12:00 Docent Tour
12:00 – 12:30 Demo Fabric Postcards with Joan Levin
12:30 – 1:00 Demo Missouri Star Pattern with Joan Hayden
1:00 – 2:00 Docent Tour
2:00 – 2:30 Demo Using Glitter to Enhance Quilts with Debra Gabel of Zebra Patterns
Advertise in the EXPO 2015 Program
Interested in putting your ad in the Program that will be seen by 1,000+ quilt show attendees? Download the application and submit with your check to Ruthie.
Vendors

The Dusty Attic
Mary Beth Scarborough
P.O. Box 556
Fruitland MD 21826
410-546-1646
Wilsons Calico Corner
Marylin Wilkens
1276 Lakewood Neshannock Falls rd
Volant PA 16156
610-730-5622
marylink@wilsonscalico.com
Spring Water Designs Quilting 
Dawn Stewart
9691A Gerwig Lane
Columbia MD 21046
410-381-0695
Springwaterdesigns@gmail.com
JoMax
Judy Barnard
504A Jermor Lane
Westminster MD 21102
410-848-8080
Info1@jomaxsewandvac.com
Shady Grove Fabric Arts 
Alice Magorian
119 Forest Avenue
Catonsville, MD 21228
410-747-8242
Hoppin Bobbin
Kelly Davis
411 W. Bel Air Avenue
Aberdeen MD 21001
410-272-2226
info@hoppinbobbin.com
Just Accessories
Paula F Rooks
105 N. Hollins Ferry Road
Glen Burnie MD 21061
410-768-8342
Handloom Batik
Usha Berlin
532 Warren Street
Hudson, NY 12534
518-828-2205
Ushaberlin@yahoo.com
JSS Designs
704 Selkirk Rd
Bel Air MD 21015
410-836-0158
LJCSwartz@hotmail.com
Aroundaboutquilts
Claudia Chapman
1142 Emory Church Road
Upperco, MD 21155
claudia@roundaboutart.com
Zebra Patterns
Debra Gabel
13618 Meadow Glenn
Clarksville MD
410-370-3798
debra@zebrapatterns.com
Yokodano Kimono
Yoko Lewis
4 Medill Lane
Newark DE 19711
302-353-4506
yokodana.usa@gmail.com
Jean Ann Quilts
Jean Ann Wright
770-402-5747
jeanannquilts@gmail.com
Cloth Peddler Quilt Shop
5330 Main Street
Stephens City, VA 22655
540-868-9020