The Baltimore Heritage Quilters' Guild (BHQG) was founded in 1984 by three women who met through the owner of a local quilt shop. They decided to meet in October, and presented "Baltimore's History in Quiltmaking" to interested Baltimoreans. Needless to say, they were pleasantly surprised when sixty people attended! The BHQG was born!
Today, the guild is thriving with approximately 150 members. A diverse range of programs and specialty classes are offered to meet the varying skill levels and interests of the members. Monthly meetings are held from September to June, where a variety of quilt related topics are discussed. From "quilting expert" speakers to show-and-tell, to quilting classes, a biennial Quilt Show, quilting demonstrations for the public, and making quilts for charities, the Baltimore Heritage Quilt Guild is alive and well in Baltimore, today. We strive to preserve and promote knowledge of the art and craft of quilts and quilt making to any and all interested persons in the Greater Baltimore Area.
If the BHQG sounds like something you'd be interested in, feel free to drop by one of our meetings. They are held at 7.00 p.m. on the second Tuesday of each month at the Woodbrook Baptist Church, 25 Stevenson Lane, Baltimore 21212. Hope to see you (and your quilts) there!
Directions
From the Beltway:
Take Exit 25 Charles Street South from the Beltway
Go about 2 miles and turn left onto Stevenson Lane (just past Eddie's Market)
Go about 1/4 mile and the church is on the right
Drive around to the back and park. Enter through the back doors and head for the happy chatter!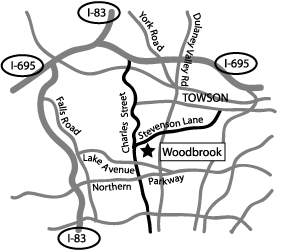 Snow Cancellation Policy
If classes at Towson University are closed for the evening, our meeting is also cancelled. Notice will be placed here on the website as early as possible and members on the Newsletter mailing list will receive an email notification.